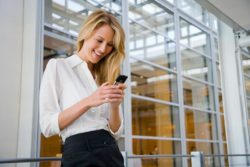 Save time, save the planet, and keep your financial information more secure by signing up for e-statements from CSCU.
Reduce mailbox clutter.
You already have 10,000 things to keep up with, so eliminating a bulky envelope up to a dozen times each year will lighten the load when you start to sort through a pile of new mail items to sort out what's important. Going electronic also means you'll never toss it in the junk pile by mistake.
Faster delivery.

Because e-statements don't require time to print and prepare for mailing and spend time travelling in the back of a mail truck, you will generally be able to see your statements several days earlier than those sent via the postal service.
Email notices when your statement is ready to view, print, or download.
Forget constantly wondering if you need to check your mailbox or run by the post office if you receive mail there. Once your statement is available online, we'll send you an email letting you know.
Easy online access and retrieval.
Manage your statements the way you want. You can simply view them online whenever its convenient for you, save them to your computer for permanent electronic archive, or print them and file them in hardcopy form if you prefer organizing that way.
Enhanced security.
By viewing your statements online through It'sMe247, you eliminate the chance that someone will steal your statement out of the mail on its journey to you. A significant percentage of fraudulent activity still takes place from criminals stealing mail.
Automatic storage of your statements for 18 months.
It's super quick to find exactly what you want to examine in your accounts. Just select the monthly statement you want to review and presto: your account activity for that time period is right in front of you. If you need to look ahead or go further back, you're there in just a few clicks.
Save the planet.
Conserving natural resources has never been more important than it is today. By choosing to go paperless, you are saving trees, reducing chemical usage, and lowering your carbon footprint associated with paper manufacturing, printing, and statement transportation. You can join millions of others in a global effort to protect the environment by signing up for electronic statements for your CSCU accounts.