Simplify Your Life with It's Me 247 Bill Pay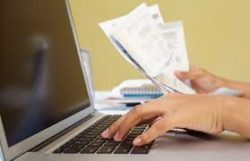 Looking for an easy way to simplify your life?  It's Me 247 Bill Pay can help you do just that.  With bill pay you can receive and pay your bills online with the click of a mouse from your credit union checking account via online banking.
There is no additional sign on procedure or password to remember – just click Pay & Transfer while in online banking.  Bill pay is fast, secure, convenient…and easy!
Pay any bill online . . . including your house payment, your credit card company – even your babysitter – at any time, from anywhere.
Receive your bills electronically . . . Sears, Visa, MasterCard, and Verizon are just a few of the companies from which you can choose to receive e-bills.  And the list is growing every day.  (Follow the instructions under the "Sign Up to Receive E-Bills" link on the bill pay screen to begin receiving e-bills.)
Other features:
Authorize money to be sent to anyone – from babysitters to birthdays
Set up recurring payments – like mortgage and car payments or insurance premiums
Schedule payments at your convenience – processing will not begin until the date you assign
Pay bills quickly – schedule a same- or next-day payment (for selected billers)
View a register of payment history
Monitor the status of your payments any time – stop wondering if your payment was received
Download transaction data into personal financial software such as Quicken or Microsoft Money
Funds will be sent either by way of ACH (Automated Clearinghouse), or by a check drawn on your account (similar to if you wrote a check yourself out of your personal checkbook), or via a corporate check issued by the national bill pay provider that powers It's Me 247 Bill Pay.  (The method used will vary from payment to payment and is controlled by the bill pay provider, not the credit union.)
How to Enroll
To enroll, simply log in as usual and click Pay & Transfer.  Step-by-step point and click instructions will guide you through enrollment and setup.
How to Videos: