PRESS RELEASE – new CEO at Cherokee Strip Credit Union
Published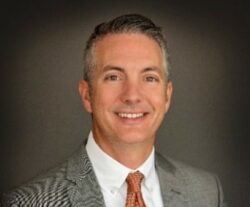 Cherokee Strip Credit Union, once again rated nationally as 5-Stars Superior by Bauer Financial, is pleased to announce Mr. Spike Henderson as their new President and Chief Executive Officer effective March 2, 2022. Mr. Henderson is well-known locally with a stellar reputation as a seasoned senior banker, having served in ever-expanding lending and leadership roles, including most recently as Regional President for Equity Bank. A life-long Oklahoman dedicated to the banking industry, Mr. Henderson began his career as a commercial and agricultural lender, and has since proven very successful in leading diverse teams and managing multi-million-dollar loan portfolios. Mr. Henderson holds a Bachelor of Science degree in Animal Science from Oklahoma State University, with service to the community including the Ponca City Chamber of Commerce, and as Board Secretary for the Pioneer Technology Center Foundation.
This leadership transition is part of the Credit Union's succession plan, as outgoing CEO Johnny O'Hare moves to Florida to care for family.
Continuing his 20+ years of volunteer leadership to the Credit Union, Board Chairman Dr. Robert Howard noted that "I have known Spike and his family for several years. Spike has a wealth of talent in the banking business, and Cherokee Strip Credit Union and our Board welcome him as the next leader of a very successful membership-based credit union. Spike will likely expand our lending in a significant way, and lead us to even more growth opportunities. I'd like to thank our Members and current team for helping us become one of the top-performing credit unions in Oklahoma, and wish Johnny the very best as he returns home."
New CEO Spike Henderson stated that he is "very excited to have the opportunity to work for an organization whose mission and focus is to help Member/Owners achieve financial success. I'm looking forward to working with Dr. Howard and our talented Board of Directors, to build on the strong foundation that Johnny and staff have built. Together we will continue to excel, and honor Cherokee Strip Credit Union's 89-year heritage of serving our community's financial needs".
Reflecting on his service to the credit union, Johnny O'Hare said that "it's been a highlight of my career to work with our diverse Board, and alongside great teammates who Protect, Serve, and Care every day. Cherokee Strip Credit Union is a special place, with a storied past and bright future. I continue to believe in our forward mission under Spike's command, and will cheer from the sidelines for our greater and collective success."
Born in 1933 as only the State's second financial cooperative, Cherokee Strip Credit Union began by serving Conoco oil refinery workers and their families, and is now open to most all of Oklahoma through its affiliation with the Oklahoma Consumer Council. The Credit Union and its wholly-owned Cherokee Strip Insurance Agency provide best-in-class banking, technology, insurance, wealth management, funds access, and financial empowerment solutions. To learn more or Join Now, visit www.cherokeestrip.com. CEO Spike Henderson can be reached at spike@cherokeestrip.com.