Beware the Man in the Middle
Published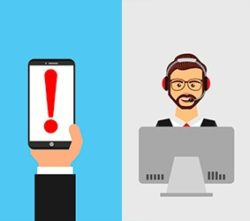 If you've received a call from your credit union about a fraud warning, you probably felt a sense of urgency to find out what is going on, but with a new 'Man in the Middle' scam, it's very important to take a deep breath and think twice before giving out your personal information to the caller.
According to a report from Fox News in Little Rock, Arkansas, the scam starts with a phone call from what appears to be your financial institution. 
Reporter Ashlei King received such a call, and recounted her experience:
"A woman on the other end told me they noticed fraudulent activity on my checking account. Something about the call seemed off, so I asked her to verify that she was actually with my bank. The caller told me she would be sending a text message to me shortly with a code so I could verify she's with the bank. I got that text, which is normal for my bank, so I continued talking with her and shared my personal account information. What I didn't know at the time was the caller was likely talking to my bank on another phone and pretending to be me, at the same time they were talking with me."
Everything seemed legitimate at the time, but after checking her account once the call had ended, King noticed that hundreds of dollars had just been withdrawn from her account.
What you can do to protect yourself:
* If you get an inbound call from someone claiming to be with us, who immediately asks for your personal information, hang up and call our Member Services team directly at (580) 718-4000, Option 5
* Protect your It's Me 247 Online Banking account with a strong password, and security questions that only you can answer
* Check out Technology Central at www.cherokeestrip.com to learn how to select biometrics sign-on for our Cherokee Strip Credit Union Mobile Banking
Thank you to Fox News-Little Rock and Fortera Credit Union for sharing much of this information.